Tracy A. Toler
I have been around artistic individuals my whole life and love creative energy. I actually live and breathe, just as I was born and bred, imagination. Meeting new people, learning new styles/techniques, enjoying the adventures of art and appreciating each opportunity are all important to me. Photography has always been an interest of mine, even when dabbling in many other artistic and outdoor endeavors. I am not afraid to "strap on" my equipment to climb a mountain or hang out of a helicopter window to get the best photographs possible! Those are actually fun days for me and I am grateful to have had such wonderful experiences.
Tracy Toler

David Romero
As a graduate from the W. Page Pitt School of Journalism and Mass Communication, David Romero took off in the field of Television and Radio Production.  After graduating from Marshall University in 2001, David attended a seven-week work-study at the International Film and Television Workshops in Rockport, Maine.
Romero has been involved in the West Virginia film and television industry for the past ten years. David has either worked on or produced feature length documentaries, local and national commercial campaigns, corporate and instructional television, major sporting events and PBS concert series.  That's right!  Here in West Virginia!
Let David help you READ between THE LINES on your next PRODUCTION.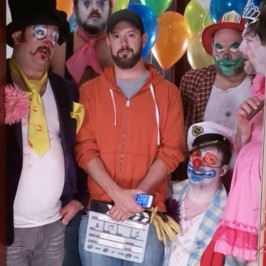 Mark Totten
As a freelance camera operator and audio engineer Mark has worked on more than 200 video projects. Mark has worked in almost every capacity in the video production world and has worked with clients from the History Chanel and MTV since starting his career shooting wedding video in 2006.
Rentals
Mark also has tons of rental gear so please give him a call for all your rental needs.